The team was treated to a dinner at the Puijo tower, in a revolving dining room, with wonderful views of the entire area. All were happy to know the elevators were in good working order.
View of Kuopio from the Puijo Tower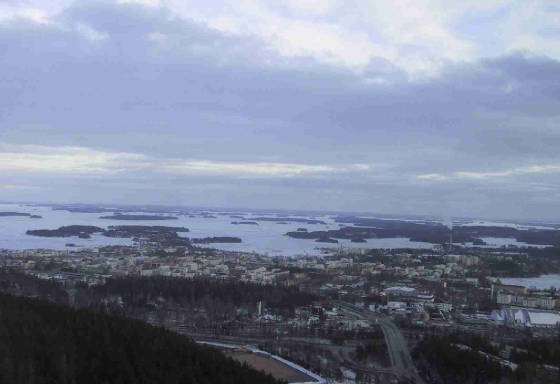 Thursday afternoon was spent at the Kuopio Town Hall. The city was gracious enough to raise both the Finnish and American flags that morning in honor of our visit. We were treated to our first taste of reindeer sandwiches for lunch, they were very tasty!
After the visit to the Town Hall, the team headed for the town spa and ice hole for a dip in the frigid lake.
Bob did not brave the cold water but stayed dry to record the event with photos. The rest of the team hit the sauna and then took a dip in the icy water. Those pictures are being photo brushed at the moment and may be published later with team member approvals.
The photo below is of one of the Finns taking a swim after sauna.
Ice hole swmimming for the brave and warm blooded.
On the way to Mikkeli, we visited the site of the world's only underground, year-round cross-country ski site - Vesileppis. The facility is fantastic, located 30 meters below ground (~100 feet) and includes kick sleds and curling facilities.
The seating is a bit unique. It appears they do not want you to sit around long in this facility as you can see.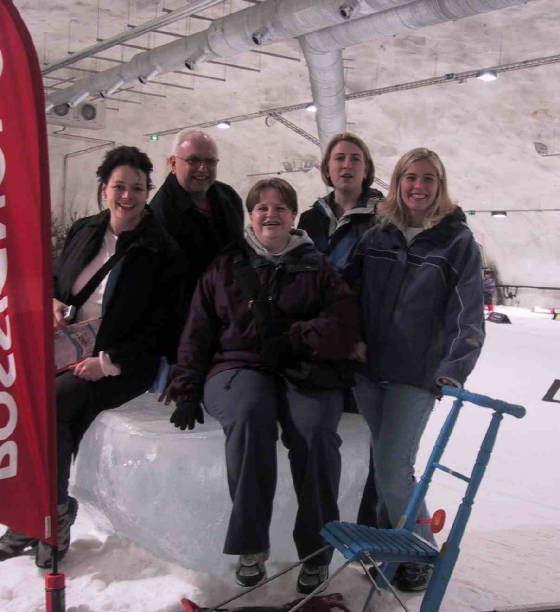 GSE on ice. Vesileppis resort on the way to the Conference
Team members enjoyed a little kick sledding in the snow.
Kick sleds were a normal means of transportation in the past, but today they can be used to provide exercise and fun for all in a facility like this.
Rotary District 7370 GSE Team - Contact Bob Lombard - Team Leader with comments.