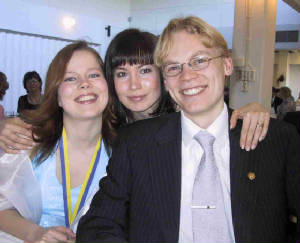 Friday evening at the conference started with a get together welcoming party at a culenary school in the city. The food was a bit exotic, but everyone tried a little of everything and really enjoyed the evening.
Bob got to meet our Finish GSE Team friends again, Sini, Sanna, and Teemu. Thy enjoyed meeting our team and we all enjoyed the evening festivities. Katja was not able to make it to the conference having just had a baby recently. We wish her and her family well.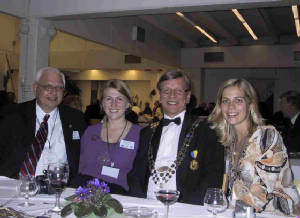 After dinner the entertainment consisted of a family of musicians and a short magic show. There were also opportunities to meet with Rotarians from around the district. Here some of the team members with District Governor Seppo Sinkko.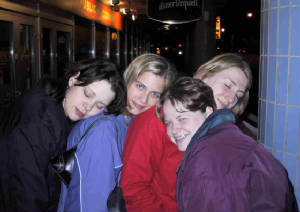 The welcoming party was great but Panu had a surprise for us and took us to the local disco club after dinner. Here is the team after a night of disco fever.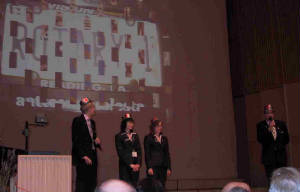 On Saturday of the conference, the GSE portion of the program begin with the Finish Team's review of their trip to the US last spring. The team sported sparkly red, white and blue hats and ran through a lively slide presentation of their trip. They had to give the presentation in Finnish, but we still were able to get the gist.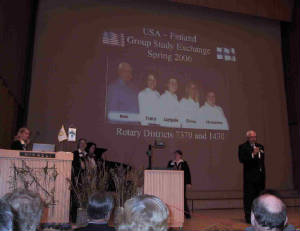 Next it was our turn to present. Bob introduced the team and kicked off our team presentation. Things went pretty much just as we had practiced and we received many positive comments about our performance following the session.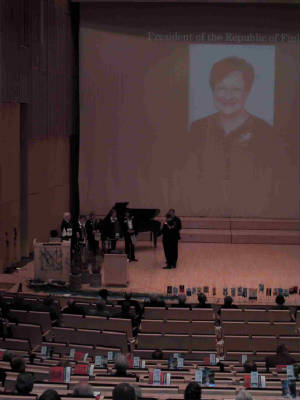 Following our presentation the district governor thanked us and we exchanged Rotary Flags.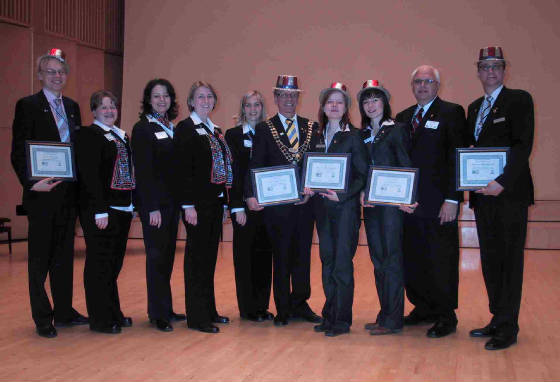 Both GSE teams following the GSE presentations.